First time I looked at the Chronomaster packaging, I found out that, according to the producers (or rather marketing specialists), the game has beautiful graphics, beautiful rendered backgrounds, smooth animation (all in hi-res) very good script, interesting and original puzzles and puzzles, intuitive interface, non-linear action with many variants of solutions, and in addition, an excellent sound setting (with an indication that the votes were lent by outstanding artists). I thought then that if at least in part it is it's true, it's purple on my hand the cactus will grow and bloom with golden flowers. With apprehension, observing the hand and the tiny purple dot that just appeared on it, I quickly went home and opened the box. world of the future. Unusually distant future. And in this the world, man not only creates more and more perfect machines and devices (in order to facilitate his existence), but also this reality directly creating. Yes, people have learned construct universes!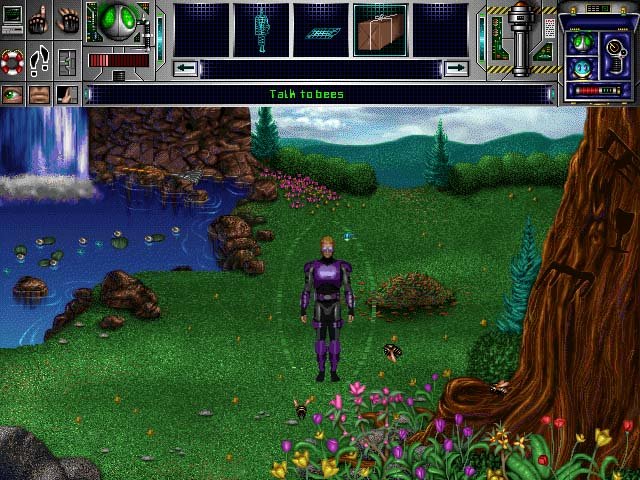 They have gone tremendously far in their championship. The universes were varied; separate ones were in force in them the laws of physics; intrigued a huge number of types of indigenous civilizations. Culture some it was based on high technology, others - on magic and the phenomena of para- normal. Sometimes it was the result of both previous models. A man could possess yes enormous knowledge thanks to immortality everyone could live as long as he wanted. Experience and skills acquired in for so long, they made people versatile specialists. But time has been restrained in another way as well. Technicians building universes they put time in a bottle, they closed it in a package yes, so that it can be worn with oneself and even control, for which items it should expire, and for which Nope. The development of technology and science opened to the locals of the universe extremely wide possibilities of interfering with the affairs of other beings. It happened that someone made several worlds stagnant - time has stopped, everything stood still. Koda, creator of universes, he is recruited to save them. We start the game inside our spaceship, Iester. By clicking the mouse on the edges of the monitor, we go to the devices available in her cabin. ("] hey", because Iester is probably her.) [Not "probably", but for sure, and communicating with the player in the form of a pretty good holographic woman]. On the right side is a database, on the left of the control room. To to go somewhere, you have to choose target and press the icon representing the spaceship. Once we land, service game looks like this: type Select the action to be performed in the menu in the upper part monitor or right-click. It is shown owned directory there items. Interesting thing there is a toolbox enabling using a screwdriver, hammer, crowbar or other similar things. In menu there are bottles we use when we want for someone (or something) in a state of stagnation, time has moved (e.g. if a monster, for whose time stands still, we will give a piece of meat, without the use of the above-mentioned cylinders, we will never wait to eat will eat).
A small circulating ball around Koda's head is a PDA, enabling communication with Iester remotely. We call them by clicking on the menu icon. in addition we can order him to break in to some terminal or opening of electrically controlled throne door. Koda and persons on many topics, making it easier to solve Puzzles. For additional information about the subject they need to be examined carefully or alternatively use Z lester database. an unprecedented thing happened. The producers hardly exaggerated providing information about the game. I break the script, interesting puzzles, non-linearity and sound they are really of a high standard. The interface has actually irrelevant faults. Only the animation sucks. In writing the last sentence, I realized that something was wrong for me. It turned out to be a flower-showered cactus in my hand. Maybe not dirty, but the game was not without flaws either It is difficult to judge the author whose books are considered to be one of the best sf and fantasy books on the market. Fortunately, my concerns about the plot turned out to be wrong. You can safely say that the game script is very good, the author did very well. The action is interesting, it is difficult to predict how the action will unfold, just like in a good book and varied 6 worlds to explore, each an average of 4 locations. The solutions to the puzzles follow the rules of logic, although they are quite difficult. There are many adventures, so you can play for a long time. said non-linearity is absolutely true and not exaggerated. We walk and do everything in absolutely any order. There are also many possible solutions to this the problem itself. The graphics are not bad. Neat SVGA rendering, nice game backgrounds, in one word it's a classic. It would be great if it weren't for the animations. As for the game, the animations are so good that they are not from this era. Spaceships are terribly smooth, the stars are like in a screensaver. and the intro even jumps on the p100 pentium. Later in the game there are silicon animations, although nice is a bit small.